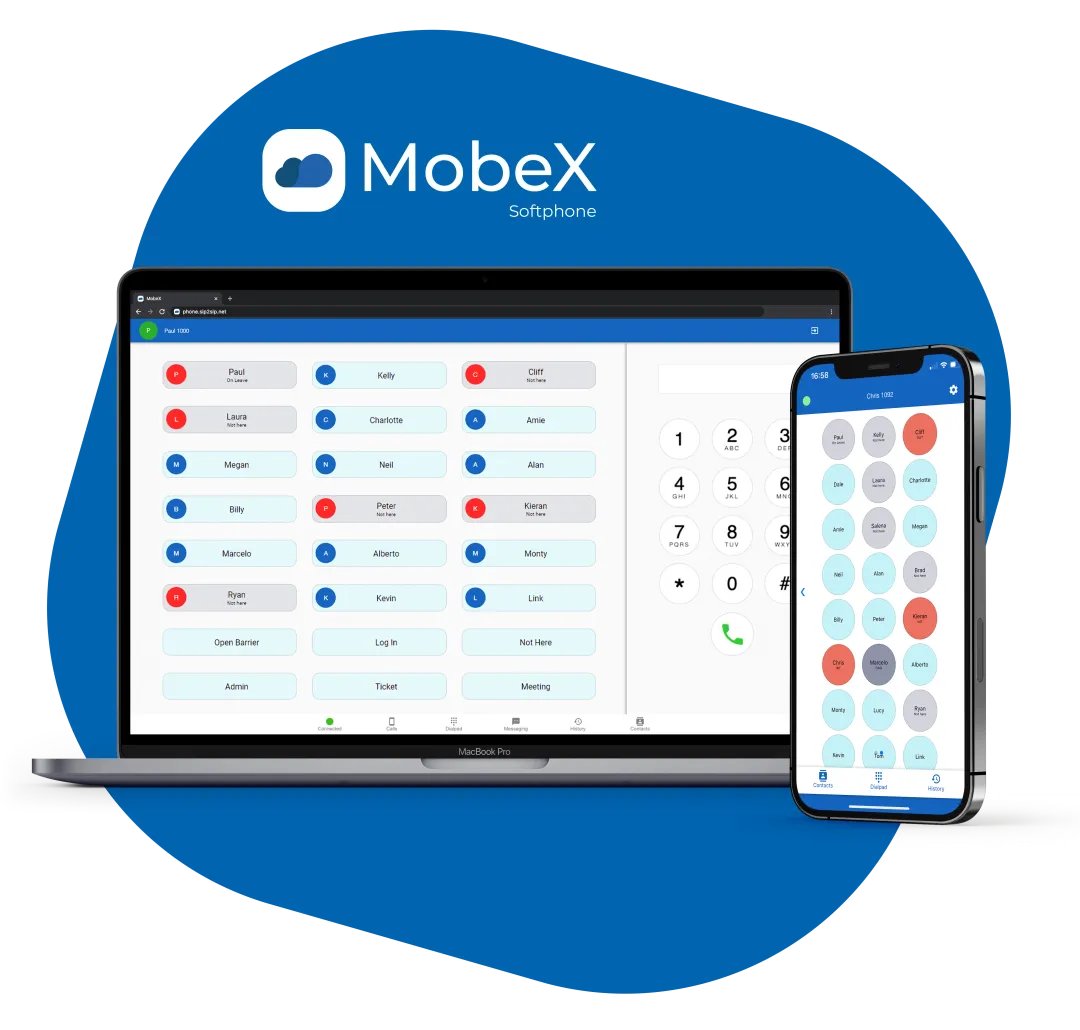 Mobex App for Professionals
Make and receive calls on your mobile phone from anywhere in the world using your mobile as an office extension.
Mobex is a mobile and desktop application that offers you the ability to make and receive calls on your mobile from anywhere in the world using your mobile phone as an office extension.
The app has a user-friendly interface so you can easily make and receive phone calls, place calls on hold and transfer calls to another extension or external telephone number using a WiFi connection. The Mobex app is able to 'handover' to GSM when the WiFi signal is poor or not available.
Key Features

Business Voicemail
Voicemail facility with visual indication for business calls that's separate from your personal voicemail.

Cloud Contact Directory
Company Cloud phone book with a search facility allows you to have all your contacts in one place.

Presence Management
Busy lamp indication showing active and inactive call detail for inbound, outbound and internal calls.

Presence Status
Show as Unavailable, In a Meeting, Logged in/out, On a Holiday, At Lunch and many more.

Quick Features
Call Flipping, Call forwarding, Do Not Disturb, Call Mute and Loudspeaker option plus much more.
What is Mobex?
It is the acronym for mobile extension.

Seamlessly Transfer Calls To Colleagues

Easy to Use App and Desktop Dashboard

Completley Flexible for Remote Working

Turn On Active Status as Desired
How does Mobex work?
So what is Mobex and how does it work? Essentially it is a Smartphone App that gives your mobile phone the ability to be paired with your extension number.
Whenever your keyphone or plain ordinary phone rings for more than 2 or 3 times (this can be programmed as desired) then your mobile phone will also receive the call, irrespective of where in the world you are. This too can be turned on and off as you desire, ensuring you're not disturbed, say at the weekend.
Many mobile phones already let you forward calls to another phone number, but can you then put the caller on hold, make an enquiry with another colleague, then transfer the conversation to another person in your office? No? This is what Mobex allows you to do.
Should you want more detail on Mobex, our team can talk you through the options and benefits. Simply visit our contact page or give our friendly and knowledgeable team a call on 03333 660 770 and we'll be happy to tell you more.