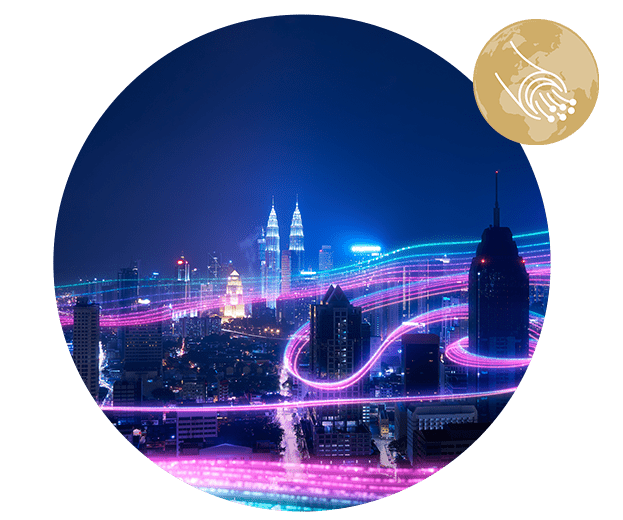 Full Fibre Business Broadband
Our Full Fibre Business Broadband is designed specifically for business users, small to medium sized businesses and remote workers. With options on business care levels and in-built backup options, Excel Communications are an ideal choice to replace your existing provider.
Business internet can be extremely competitively priced and we want to make sure you choose connectivity solutions that best-fit your business.
Our Full Fibre Service is ideal for general internet access, but they are also built on a low contended business network to allow for Voice over IP (VOIP), Video Conferencing, Cloud Storage, Remote Desktop, Microsoft 365 (Teams) and all future broadband dependent products.
With several bandwidth options available from 80mb to 1000mb, we can help you determine the best speed for your business. What's more, all our broadband services are unlimited (some may be subject to a fair usage policy), meaning you are free to download as much content as you need.
Comprehensive Features


Unlimited Usage without Restrictions

Up to 8 Static IP Addresses Available

Enhanced Service Levels for Fix Times


Choice of Market-Leading Routers

Perfect for VOIP & Cloud Services

4G Automatic Fail Over Services Available

FTTP 40mb Download / 10mb Upload

FTTP 55mb Download / 10mb Upload

FTTP 80mb Download / 20mb Upload

FTTP 115mb Download / 20mb Upload

FTTP 160mb Download / 30mb Upload

FTTP 330mb Download / 50mb Upload

FTTP 550mb Download / 75mb Upload

FTTP 1000mb Download / 115mb Upload
Excel Communications can provide Fibre to the Premises to UK clients in certain areas where they cannot receive Fibre to the Cabinet. With download speeds up to 1000mb and 115mb up-load speeds it is a fantastic option to upgrade from ADSL Broadband or downgrade from a Leased Line Ethernet Service.
Added benefits with Excel Communications
By December 2025, the traditional analogue phone network (the Public Switched Telephone Network, or PSTN) will reach the end of its life and newer digital technologies will take its place.
This means that around 16 million lines and channels will need to be upgraded to alternative products over the next six years.
The PSTN network is increasingly out of kilter with the demands of modern communications. As people switch to mobile and internet communications, everyone demands much more than the traditional technologies were designed to deliver. Which is why we're switching to IP.
The move to all-digital isn't just because the old phone system is, well, old. It's because all-digital communications are so much more data-intensive than they once were, think about all the services that rely on fast, stable voice and data connections, even things like EPOS machines, door entry systems, CCTV, traffic signals and faxes too.
There are three main ways we can connect you to the network…
Here at Excel Communications, we're excited about the move to digital, and the opportunities it brings for our customers to develop new products and meet their customers' demands for decades to come.
FTTP
The future is Full Fibre to the Premises (FTTP), where pure fibre optic cables connect you straight to the exchange to your front door. This is our most popular service!
FTTC
If you've got a fibre package from your Communications Provider today, it's likely you're connected via FTTC. Fibre to the Cabinet increases basic broadband speeds by connecting powerful fibre optic cable to the cabinet, then copper wires to your home or business.
Copper network (ADSL)
Basic broadband access uses a copper phone line connected to the exchange. Check with a communications provider if you can upgrade to FTTC / FTTP.
If you're not sure what connectivity solution is best for you, contact us and we'll be happy to help.
Added benefits with Excel Communications
Customers can take advantage of One Bill… one bill for all our services!
All our customer billing is done in house. We can provide robust reporting for our customers giving a transparent and comprehensive list of all services used, such as phone calls made by your colleagues, data usage and and any additional services taken out. One Bill gives you the ability to track of any loss making calls and services whilst verifying that our charges are being billed correctly; catching them should any unexpected charges appear.