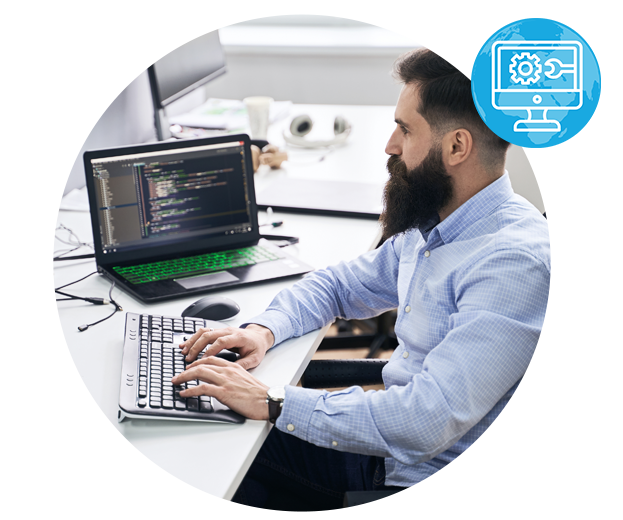 IT Support
Is your IT working as it should?
Are your computers frustratingly slow, unreliable, affecting productivity, are people complaining? Does it take too long to fix simple issues? Is it a hot topic in the boardroom – for all the wrong reasons?
You are not alone, too many organisations get into an IT pickle at some stage. Our adept understanding of all aspects that make a company's IT infrastructure function like a well-oiled machine, from consistent communications and managed Cloud solutions, to robust IT security measures and a devoted support network, ensures your company remains at peak performance.
We can deliver round-the-clock operational and support services. Plus, a portfolio of infrastructure, IT security and cloud management services to keep your IT system working as it should. We're here for you – wherever and whenever you need us.
IT Support That Makes Sense

24/7 IT Support
Your support team, whether a simple query or an issue that needs solving. No job is too big or small for our IT Engineer Team.

Infrastructure Management
Your operational team, taking care of all your system and administrative needs. We manage your users, monitor your network, and look after your infrastructure.
Security Management
Your protection team, making sure your network is up to date, secure and protected, and if the worst happens, can help you recover easily and without loss.
IT Support Packages
We can support businesses of all sizes throughout the UK, helping with all areas of technical support to keep your business working efficiently and effectively. We can help with installation and provide expert advice and support whenever it's needed, ensuring you get the most out of your technology or software.
IT is essential for many important business tasks including managing calls, emails, documents, managing client information, accounts and more. We offer a range of tailor-made IT support packages that have been designed to reflect how important IT is for your business, and especially at affordable rates.
Call 03333 660 770 to speak to one our experts today!